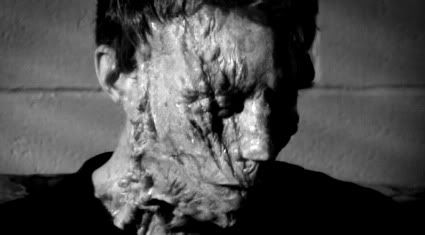 Hanger (2009)
Director:
Ryan Nicholson
Writers:
Ryan Nicholson, Patrick Coble
Cast:
Debbie Rochon, Dan Ellis, Nathan Dashwood
MPAA Rating:
Not Rated
Synopsis:
The product of a botched abortion teams up with his biological father to track down the sadistic pimp who murdered his mother.
Thoughts:
The words "freakishly horrifying" frequently popped into my head while viewing director Ryan Nicholson's latest self-proclaimed abortion, a sinister and viscerally disturbing flick specifically designed to shock your senses. Not only is the viewer treated to a racially insensitive Chinese stereotype who collects soiled, odorous tampons, audiences will also come face-to-face with an up close and extremely personal colostomy rape, which has to rank as one of the most visually disgusting scenes this jaded film fiend has ever encountered. As foul and ultimately pointless as this whole sordid affair might sound, I thoroughly enjoyed my stay in Nicholson's severely warped universe. And, yes, I know how impossibly sick and perverted that sounds.

Recipe For Success:
One Seriously Deformed Anti-Hero + One Cup of Bloody Tampon Tea +
Dick Tracy
Inspired Character Design